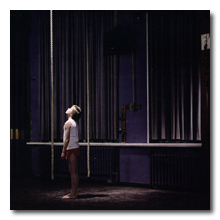 This 2011 release was just issued on LP for the first time. It appeared in my mailbox today.
It was a good day.
Keith Kenniff has put his name to a lot of enjoyable music…three of my favorite releases over the past few years, actually: Helios Ayres and Unleft, and The Last Survivor score, among others.
Branches doesn't disappoint – it exemplifies many of the pleasing elements I've come to expect from him.
Keith bases many of his compositions around what sounds like music-box-inspired sequences, yet the oft-electronic spines of the songs never come across as mechanized. There's a hazy yet crystalline gauze overlaying the melodies that invokes something intangibly, achingly sweet. Kenniff has a singular talent for making electronic rhythms positively organic, and his command of computer-generated textures is inspiringly human.
His more classically-based compositions sometimes have a pianistic Glassworks vibe to them, albeit with more of a cinematic scope. Sometimes these remind me of a humbler take on the quieter pieces on Henry Skoff-Torgue's Le Prince Apatride album, or the combination of whimsy and thoughtfullness distinguished by Roedelius' Jardin Au Fou. (And yes, Max Richter comes to mind, but one of my resolutions this year was to stop comparing everything I like that doesn't have drums or guitar to Max Richter. Maybe I should just put him in the journospeak hall of fame, or something). 
Kenniff makes much of his music available via CD-resolution FLAC on his Unseen Music site. Used vinyl copies of his catalog can go for exceedingly high prices on Discogs; CDs seem to fetch slightly more sensible amounts. He scores spots for Facebook, Apple and Google, among others. One gets the feeling this pays the bills.
The gentle and unassuming nature of Keith Kenniff's music is appealing beyond words. This is someone whose story (and work) seems publicist-ready, yet the music benefits from an appropriately low-key approach. Unseen Music, indeed.
Somehow, overall, it just seems right.
Thanks, Keith.
Buy Keith Kenniff titles via Forced Exposure