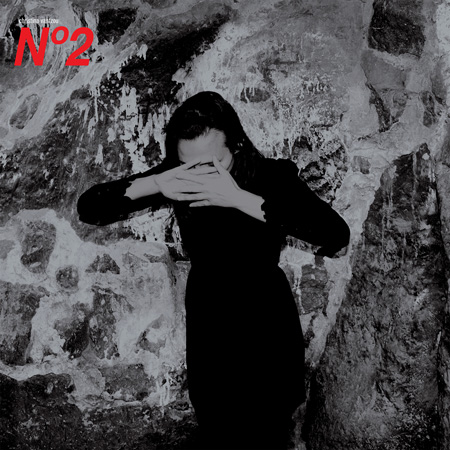 Nº2 is filmmaker/composer Vantzou's second CD for the Kranky label. Christina grew up in Kansas and Greece and currently lives in Belgium. She works as an SAT math tutor; that's how (in part, I assume — perhaps some of those sweet Belgian arts grants may've played a a part, as well) she funded the four-years of work that's resulted in this release.
The result is what the pigeonholers call post-classical, or neoclassical, or modern chamber music. BPM geeks will acknowledge that the album moves at tempi approximating larghissimo; many of the songs sound like extended, near-glacial codas (or is it codae?). Influences? In a pinch I'd venture there's a helping or two of Max Richter's grasp of silence, interval, and grace, that rascal Gorecki's ol' standby Symphony No. 3, and the ever-popular A Winged Victory For the Sullen vibe (Adam Wiltzie, one half of AWVFTS, mixed all but one track on the album).
Vantzou's pleasingly ponderous take on strings, Mellotron-esque vocal samples and overall elegiac atmosphere brings the project home, quite ably assisted by San Francisco's Magik*Magik Orchestra, conducted by Minna Choi.
Nº2 won't immediately grab you by the lapels, but it might deign to lightly run its finger up and down your arm in a somewhat flirtatious (and, somehow, distractedly somber) manner. Think "melancholy" tinged with "haunting" then amp it down a notch or five. But the overall sense is that the songs benefit from the tone and pace. There's passion here, and the patient listener is gonna divine it and be rewarded, sooner or later.
Nº2 breathes "ethereal". But not Enya-ethereal, or Kate Bush-ethereal. The narrative here is anything but spoon-fed. Vantzou's arrangements and instrumentation take the e-word and stomp the living faint-praise out of it in a lovingly insidious and low-key kind of way.
Each time Nº2 is on the stereo I discover something else that wows me; the subtleness is its beauty, and vice versa. I immediately found the album to be addictive, listening to it daily over the past two or three weeks. I had it (and The Dead Texan's self-titled album) on repeat this past rainy, gray weekend, and after about four or five hours, I grudgingly figured maybe I should put something else on (admittedly, this was possibly motivated by my girlfriend sticking her head into the living room and asking, pray tell, what wake I might be deejaying?).
During that extended period preceding, though, the music seemed like the most natural thing in the world. It still does.
If, upon checking out Vantzou's latest, you feel similarly inclined and haven't experienced Vantzou's first CD, Nº1 (available also as a DVD + remix CD direct from christinavantzou.com) and The Dead Texan collaboration with Adam Wiltzie (and Wiltzie's work with Dustin O'Halloran, A Winged Victory For the Sullen), please, please do. This is music that seemingly exists in an oddly agreeable and sedate vacuum, but it doesn't have to.
Nº2 was released on February 24th on Kranky. Far as I can tell it's available on CD, LP, iTunes and via the usual other download outlets. The only place I've found the CD-resolution FLAC for sale is Boomkat. Yes, it would be good to have this on 24/96. Perhaps when you buy the CD and LP and help make Christina as popular and appreciated as she deserves to be, other formats will follow. You have that power.
Christina Vantzou's site
Christina Vantzou on Kranky
Christina Vantzou on Bandcamp
Christina Vantzou on SoundCloud
Christina Vantzou on YouTube
Christina Vantzou on Facebook
see also:
The Dead Texan
A Winged Victory for the Sullen
Stars of the Lid
Dustin O'Halloran